Testimonials
"Hi Cindy, I wanted to give you a quick update on Muggles. His first couple of days were getting adjusted and he was a bit overwhelmed, but by Sunday his personality was starting to show. Now he's learned how to go up and down stairs, he's scampering around the yard and has that little bunny run where he pushes off with both his back legs - it's so cute. He's also starting to show a slight recognition in the door outside and needing to go to the bathroom - he actually indicated twice he needed to go that way. I'm doing gentle crate training and he's taking to that OK at times that he's tired, when he's not tired he really protests, so I don't push it. Needless to say he is biting the living heck out of me too, so I'm still finding ways to get him a good chew toy that he actually likes. So far the best thing that seems to give him satisfaction is cedar strips or a large chunk of cedar from his potty area. I got him some Kongs and another 'tire' toy that can be filled with his food or treats, but he's a little young to really get those right now.

I remember you saying he had cedar chips in his pen, and I made a 15 foot square area that has cedar chips for him to use as a potty area - he likes to go in there and root around in some places and will find cedar chunks to gnaw on. I was curious if chewing the cedar strips and sticks was normal behavior for these guys? I try to let him have the larger chunks that he can't swallow because it seems to give him comfort. Please let me know if that's a problem.

We also take many trips outside at night, I'd wake him from time to time the first couple of days because he had an accident the first day, but last night I just let him indicate to me when he needed to go and that worked really well.

His digestion has been good, he had an appetite the first couple of days and that's just grown ever since. I'm also doing training exercises like sit / stay / recall and down using his food as a motivator, so he works to eat in the morning and I give him food when he wants it in the afternoon.

I have to say that I'm incredibly impressed with how smart he is, and how quickly he leans skills when his food is involved. He's quite a rascal and goes from a crazy wild puppy to a little doll from heaven to just crashed out throughout the day. He even give me loving gazes from time to time and seems to be bonding and comprehending his new life.

I just wanted to touch base and let you know that he's doing really well, has a good appetite and is adjusting very rapidly from farm puppy to house puppy, and he's really an amazing good boy!" - Deon
---
"Morning Cindy, the wife and I bought one of Lilly's male pups born on August 12th 2007. His father was, I believe, Eolahills Reggis-A-Star. We believe he was number 32.... Wanted to let you know, 'Skye', is still a member of our family nearly 14 1/2 years later. Moves a little slower but still eager to go for walks. Believe it is due to your good breeding and blood line of your dogs. He has been a great companion, and hoping he stays with us even longer. Just wanted to drop you a line and say thanks for giving us a healthy beautiful dog." - Kent Steele and Joyce Cavanaugh
---
"I wanted to give you an update on Hannah, my puppy out of Ellie and Buck's litter. Hannah is thriving. Two days after I brought Hannah home to Goldendale, we got our first snowstorm of the winter. We have had snow on the ground ever since and Hannah absolutely LOVES playing in the snow. The attached photo was taken after Hannah and Tucker, my old golden, had just come in happy, but tired from playing in the snow. Thank you for such a wonderful golden puppy." - Katrina Guthrie
---
"Merry Christmas from BRUNO MARS. 7/5/19 Son of Molly May 2 & Thunderstruck Cooper. Always smiling and very talkative!" - Kevin Wade

---
"My wife and I had been looking at adding a golden retriever to our family for some time. Cindy and Oak Grove Golden's were fantastic to deal with and the boy we got is super loving, smart, and healthy! Thank you for the perfect addition to our family!" - Brandon Conner

---
"Sunny is 6 months and 6 days. He is about 45lb and very healthy. He loves humans and other dogs. It took for a while for him to get along with our old dog (Hana, 10 years old), but they are getting along with each other now. He finished obedience classes. He is very smart and learned a lot quickly. He still needs training for counter surfing and putting anything in his mouth, though. We are so happy that he is a member of our family." - Andrew and Iku Funderburg

---
"I hope all is well in Rickreal. Our middle son Scott decided to be a Oregon Duck instead of a Beaver at Oregon State. Anyway, I figured I would send a couple pictures of the boys to ya. They are beautiful guys. They thoroughly love being together. They pretty much see each other every day. I just wanted to say thanks again. Pumpkin now 12 puts them in there place and plays with them too. Leroy is the one in the photo with Pumpkin and by himself on the boat. Rubin is the other one. Take care" - Janell/Doug Hayes

---
"I wanted to send you some pictures of Pinot. We brought her home in May and she was Lady Addison / Charles litter. She is 4 months old and is so smart. She loves people so much but is a little shy around doggies. We are continuing to take her to puppy socialization and puppy play dates. She weighs in at 26 lbs and is so gorgeous. We get compliments all the time on her coloring. She is very lean and long. She is the best girl." - Alyssa Tarbox

---
"Here is Teddy now (Buck & Lacy's pup born 2/21/20). We always wonder about his litter mates if they live here in Seattle area, it would be nice to meet them." - Harkey Family
---
"Twelve years ago, we bought a puppy from you whose parents were Reggie and Lady Sabrina. We named him Brody, and he became a huge part of our family. We raised our kids with him, and he traveled everywhere with us. I don't think there's a trail or beach Brody didn't go to anywhere in the Pacific Northwest. He led a healthy life with only an occasional ear infection.

In the last 6-8 months he slowed way down and wasn't interested in going on walks with us. He was in need of a major surgery for a linear intestinal blockage that had caused severe damage, and we just couldn't put him through such a horrible surgery at that point in his life. This past week, we had to say goodbye, and we are completely heartbroken.

I'm writing to you because Brody lived an incredibly healthy, happy, life full of love and adventure, and I wanted you to know that. When we are ready for another Golden, you will be our first call.

Thank you for this beautiful dog that added so much to our family." - Kristen, Craig, Blake, Ella, Henry, and Murphy Peterson

---
"Hi Cindy, hope you are enjoying some beautiful weather. I wanted to give you an update on our girl that we brought home yesterday. Safe to say WE ARE IN LOVE.

She did great on the car ride home and went right in her crate for a nap when we got home. We got her in to the vet today (everyone loved her there, no surprise).

She has been eating and drinking normally; along with having normal stools! She is perfect and has been adjusting swiftly.

Thank you again, we are so happy we went with Oak Grove Goldens and will continue to recommend in the future!" - Alyssa Tarbox

---
Just wanted to send you an update and show you Khaleesi! She's seven months now. She's doing great. Best personality. Loves fetch and swimming. Goes with us everywhere. I take her to doggy daycare when I'm working and we have done 2 rounds of obedience classes. Thinking about getting her therapy dog certification so we can volunteer together! - Kathlyn Sears
---
"First i would like to thank everyone at Oak Grove for your part in introducing me to the best dog I have ever known. Our Maizey gave us her last goodbye recently after 16 glorious years. Seriously the sweetest being we could have ever hoped to have join our family. Just an absolutely perfect friend. We would like to reserve another female pup this spring or summer if you have any available. We're very much looking forward to hearing from you soon. Seriously, thank you again for our Maizey. There simply aren't words. - Andy Thornton
---
" 13 years ago, we got the best dog we have ever had from Emily and I believe Maxwell at Oakgrove Goldens. She did everything with us. We power walk, jogged, multiple times climbed Hamilton, Dog and Wind mountains in the Gorge. She spent countless hours chasing the tennis ball and swimming at our lake cabin. All 5 of our grandchildren were raised by her. The oldest is 12. We found the reason for her sudden decline in appetite and energy on 3/23 by scan. It was a widely spread vascular cancer involving the liver, spleen and lymph nodes. Even then, she had walked 3.25 miles on 2/22 with us, although we let her set the pace. Because we were told she could have a sudden catastrophic end, we were with her when she was euthanized 3/24. We are left with a huge hole in our hearts. I can't tell you how many times people volunteered what a great dog she was. Our Vets were so impressed that they eventually brought home 4 goldens from Oakgrove Goldens. The bottom line is that we would very much like to get a cousin from you as soon as they are available. Thanks so much for the great job in breeding such wonderful dogs. - David and Laurie Wills
---
"THANK YOU SO MUCH FOR OUR SWEET ROSIE!!! We picked her up from you two weeks ago today. She was one of Buck and Cami's sweet girls. I am so grateful you do what you do. I'm so thankful she joined our family. We love her so much. She is doing wonderful and I believe she loves her new home. Although cats are still adjusting to her she wants nothing more than to be good friends with them. - Carrie Clark
---
"Just wanted to give you an update on Krieger, from Piper & Buck's January 2020 litter. He's the best little dude that I could ask for, and was definitely a life saver during Quarantine. He loves to cuddle up on the bed and always had to have a toy ( or two ) in his mouth. Hope all is well and thank you for such an amazing dog!!" - Samantha Gage

---
Hello just wanted to sent a note saying how amazing my puppy, Shasta, has been. It's been a little over a month since I brought her home and she's been an angel ever since. Thanks again and hope You have a great holiday!
---
"Calli goes to school Every day with her owner who is a high school teacher. She has to put her head in every students lap to get her pet each day. She is an excellent Companion and therapy dog. She is only eight months old!" - Maureen Walter

---
"Just wanted to let you know that Lincoln did very well on his first car ride home. I have attached a photo of him sleeping in the car. His big sister seems to really like him and they've been playing very well together. He is super spunky and smart! I think he is going to be a wonderful addition to our family! Thanks again for being so lovely to work with." - Kristen, Taylor, Finley, & Lincoln

---
Hope you are well and enjoying this wonderful fall weather! I'm attaching a photo of Yukon (Molly Mae X Buck) boy who is now almost 2 (Dec. 5 2018 litter). - Khrystal Condon
---
Here is my Steve from Piper and Buck's January 2020 litter. He is the most wonderful dog ever and the best thing to ever happen to me!! - Valerie Thaler
---
"We've adopted two pups from Oak Grove over 8 years. I am extremely impressed by the breed quality and health of these genetics. Smart dogs, gentle, easily trained and beautiful. You have a preference for color, body and eyes? They have it. Yes the pups are not inexpensive like backyard breeders but quality is far more important. Best Dogs Ever. - Anne Elise Kinsey
---
"Merry Christmas to All at Oak Grove Goldens! God bless you for all the joy all year long!" - Kevin Wade
Theadore Tobias, Son of Sir Cody / Lady Samantha, 4/10/11
Bruno Mars, son of Thunderstruck Cooper / Molly May 2, 7/5/19
---
"This is Max from Addy's litter in June. I would like to wish you and yours a Marry Christmas." - Bob Watson
---
"We have a wonderful female golden whose parents are Lacy and Buck, born June 6, 2018. Harley is the joy of our lives - she's such a sweet, smart and sometimes mischievous girl. Everyone has to stop and ask to pet her. She loves to retrieve items and is well known in the neighborhood for packing her own 'poo' bags home so proudly!! Wonderful breeder = wonderful dogs !!!" - Sheri A. Mosher
---
"I would like to let you know that our beloved Katie who was almost 15 has passed away. We came to you so many years ago looking for a kind and gentle dog. Katie was the daughter of Sir Maxwell and Lady Hannah. I believe it was one of Hannah's first or 2nd litter, and you have the photo still on website. Katie was the runt, and the sweetest, loving dog any family could have. She traveled the NW states, SW states, and even into Canada with us and grew up with my daughters. She even went to St. Louis Missouri, where she went into emergency care in Nebraska because she had a twisted stomach and they removed her enlarged spleen. She stayed for over 2 week, and became the love of the vet office there. They did not want her to go. After that we were told she only live another year, but she pushed on and gave us 4 more wonderful years. Over time she got slower, kidney disease set in and although we provided her with everything she need, fluid flushes, specialized food, her body gave out on her. Monday she was no longer able to stand, but was holding on, dealing with pain, and so we decided it was time to let her rest. We miss our 'Happy Katie bear,' but we also know she can run like she use to and play until she wants to stop. We will be coming back to you when we are ready to bring a new little one to our home again. We want to thank you again for providing us a beautiful dog, who provided us with so many happy memories, who can now join her dad Sir Maxwell across the rainbow bridge." - Catherine Hay
---
"I just wanted to reach out to thank you and update you on our little puppy that we picked up on 02/15/19. Scout is a fun-loving, amazing tempered boy. He is very smart and trained so quickly! He was potty trained and listening to commands at 3 months old. He is nearing 7 months old now and impresses us everyday.

We live on a farm and his gentle, loving temperament has been invaluable here. Our sheep run up to the dog yard and stick their heads through the fence for Scout's kisses. He's fantastic with our other older dog and our cat also. He gets along so well with visitors, their dogs, and children.

I am also a training therapist and have had Scout accompany me to sessions. He is a calm, gentle, kind presence in the therapy room, even at such a young age and without being neutered yet.

He is already nearly 50 lbs. and has a beautiful, light red and blonde coat. He went from a tiny fluff ball to a slender giant! He is just so healthy and has amazing genetics and disposition, we can't thank you enough for the beautiful lineage and responsible breeding you conduct. Our other dog has anxiety and Scout's presence alone has calmed her and helped her learn that things like car rides and the vacuum aren't so scary after all.

We love our little Scout more than we can express and are endlessly grateful to your family for our new addition. He greatly improves every day!" - Shae and Nick Ferguson
---
"Hey, just giving you an update on our new puppy! He's perfect and so good, he's already potty trained really well and is super smart! We named him Forrest! Just wanted to send you a couple pictures of him and his new big brother! It snowed a lot this week at our house so there's some fun ones of the boys in the backyard. Thank you guys so much!! We love him so much!!" - Karla & Isaac (and Dillinger the black Labrador)

---
"We wanted to share some pictures of the awesome golden retrievers we have raised (and continue to raise) from Oak Grove Goldens. Recently we picked up our newest family member, Ember, from Buck and Elsa's litter. She is our fourth Golden from your kennel! She is also 4th generation of Sir Maxwell's line. Max was the sire of our first male puppy, Duke. He had a long curly mane like Max (see attached pictures). All of our dogs have come through Max's line. Each of these dogs have had unique personalities, but all have been kind, smart, obedient and loving companions to us. They came to us healthy and happy and have brought great joy into our lives. Since we take our dogs nearly everywhere we go, they have had some great adventures over the years across the US and Canada. We look forward to more fun with Bosun (6 yrs old) and Ember (8 wks old). Ember has made herself right at home and is already asking to go outside to potty (after only 3 days of house training). She gets it! A video of Bosun pulling our dinghy in to shore is also attached. Enjoy!" - Lew and Lori Allen
---
"We are so in love with little Gus! (From Molly and Buck.) He is spectacular and so loving. We've bonded deeply, he knows his name already and sticks with you like glue (but not that he's afraid to wonder just that he likes being with you)! Anyway, we thank you for taking such care and pride with your breeding - the temperament of your puppies is incredibly sweet and we feel so blessed to have little Gus. We'll be in touch to let you in on his progress and even a little brother down the road." - Judi and Al

---
"I wanted to give you an update on my boy Teddy from Piper/Buck litter December 26,2017. He's grown into a beautiful boy, I can't get over how handsome he is! Full of typical Golden Retriever personality, he's so funny, smart, well behaved and loving! He's my constant companion, I can't imagine life without him! Here are a couple of pictures I took of him today in my sewing studio, he looks so much like his sire Buck. Wishing you and yours a very Merry Christmas and a Happy New Year!" - Kathy Naylor
---
"We got our Samson this past July, from Molly and Buck's litter. He's now about 6 months old and I have to say I don't think a day has gone by that he hasn't made me laugh! He has a sweet, giant and very funny personality and I hope he never loses that. He also gets alot of attention wherever we go as he is absolutely gorgeous! He's everything I could have hoped for and more. Thank you." - Denise Darby

---
"LingLing (Buck & Lacy) is only 5 months old (+ a few days) and she's grown so much! She's beautiful - on the outside and in her temperament. We always say we got the best of your 5 litters! 'Hope all is well with you and yours and Thank You!" - Robert & Martha
---
"LingLing is even better as she gets bigger! And she grows by the minute! She's close to 40 lbs now! (Lacy & Buck's litter). She has a people-pleaser personality and, now that her shots are complete, Robert walks her 2 x a day and the neighborhood loves her like we do! Just decided to send an update. Hope all is well with you and yours." - Robert & Martha
---
"Thank you Oak Grove Goldens! Jax is our 3rd Golden baby from you. Jax is super sweet and loves life. He is actually smiling in this photo he was so proud of his toy. He is the absolute best. He greets everyone with a smile and his tail wagging. He loves his kids. He is Cody and Charley's boy born January 9th, 2015." - Dan-Dawnie Atkins
---
"This is Hazelnut from Sage and Cooper last year!" - Holly Beckwith
---
"I just wanted to thank you again for the most wonderful pup in the world! Harley is one year old today and sits around 65 pounds. [Millie and Cooper are his parents.] He is full of energy and love and is crazy smart. He knows so many tricks and commands, loves to run and play fetch! We get so many compliments on how beautiful of a golden he is and how well mannered he is. We even had a play date with littermate Rhubarb last weekend. While they didn't seem to remember each other too much, they sure did have a blast playing together!" - Hannah Hickam
---
"Here is a picture of Max. He is the son of Cooper and Millie. He will be 2 next month. He has been a true joy in our family. He loves the water and playing fetch and lots of walks. He really likes the beach where he loves laying in the water." - Greg and Rachel Morgan
---
"My big baby is doing good. She loves those glow in the dark balls. We love her so much and she is so spoiled by both Roger and I. I cannot believe she will be two years old already. Thank you so much." - Karen Hagen
---
"Hi! This is Larry, puppy #76 from Millie and Buck's November 6th, 2017 litter!!! He is now 8 months old and HUGE... weighing at about 75 lbs and growing!! He is always smiling, and is the sweetest boy ever, he loves everyone and everything. He is also very smart, he potty trained in about 2 weeks (or less), and learns/ picks up commands very quick! Right now, he knows sit, lay down, stay, leave it, drop it, roll over, shake, high 5, fist bump, he will sit up on his hind legs on command, and is learning play dead right now! We seriously got so lucky with him, he has been the best puppy- has never chewed up anything of ours, listens amazingly, is calm and relaxed, and his main goal is solely to please us. We love this dog so much, and we thank you for raising such great dogs! If you happen to have any pictures/ updates/ info about his litter mates, we would LOVE to see/ hear about it!! We would also love to get in contact with his litter mates for play dates if possible!" - Alaina Johnson

---
"I purchased a gorgeous boy from a breeding of Lady Piper and Buck, that produced my puppy born December 26, 2017. I want to share with you how he is doing t six months of age.

Teddy was just 7 weeks old when we brought him home on February 10th 2018. From the get go, his temperament was wonderful! So loving, smart, and easy to housebreak. At six months old he is a beautiful,loving,dog!

I'm 62 years old, for the last ten years we have had Boxers, my daughter has a 18 month old Boxer and these two boys are best buds! My point here is the difference between the two breeds is like night and day! Where the Boxer is super high energy and runs circles around Teddy, Teddy runs and plays awhile, (never catching up)and then just lays down. At my age, and while still quite active, (I live on 10 acres) I wanted a calm mellow dog to be my devoted companion. I got that in Teddy. He is everything I hoped he would be and more! He exceeded my expectations!

Easy to train, super smart,calm, loyal, loving, soooo funny, and a good watch dog!!! He is NOT destructive, not a digger, not a barker and not a chewer.

He HAS to have something in his mouth just holding it, bringing it as a gift. Mostly blankets and socks. But he's a retriever, that's what they are bred to do, and he is the best dog I have ever had or been around, and I was a dog groomer for years.

That breeding produced an amazing dog! Your Buck sired wonderful puppies, and Lady Piper brought her wonderful attributes to the puppies.

Teddy was neutered two weeks ago and never bothered his incision, he healed up beautifully.

Thank you for being a responsible breeder of such beautiful dogs, I know how much time, planning and effort that is involved in producing a great dog!" - Kathleen Naylor
---
"Daisy is doing great! Close to 100% potty trained and still sleeping through the night! She's gotten rave reviews from the vet who complimented you as the breeders at what great shape and care she obvious had received from you. :) At 12 weeks old, she now weighs 20 pounds! And we have started her in a 6 week puppy training class, already the envy of the other 6 puppy parents, of course! Here she is from last week! We're loving every second of her!" - Barbara and John (proud puppy parents)
---
"I wanted to update you on Colbie, from Sage and Cooper's litter born 2/8/2017. Colbie is almost a year now and is about 60lbs. She is the happiest dog and loves to be loved. She comes to work with me everyday and is so good at making friends with both humans and other dogs. I could not have asked for a better dog. Thanks again and here of some photos of her!" - Sara Boraston

---
"This is Bella from Molly and Cooper's litter this spring. She is 7 months now and a complete love. She is very smart and sassy at times and we just adore her. Love how she 'talks' to us and loves all people and other dogs. Thank you for giving us such a wonderful pup to love." - Kris Combs Campbell
---
"Cindy, I thought I'd share an oakgrove couch potato after an afternoon of ball. Maddy born 1/4/16, a puppy from Millie and Cody's litter." - Diane Brinlee
---
"I wanted to thank you for both Arthur and Enzo. We are so happy with both of them. They are wonderful in every way imaginable, and then some. The tip you gave us about keeping them separated by baby gates at first was perfect. We put Enzo in the family room and Arthur had the run of the rest of the house. The first day Arthur was not happy with me. He wouldn't let me pet him for 2 days. I stayed in the family room with Enzo for about six months keeping their play sessions short and positive. Finally, I felt that they could be together (and I wanted to sleep in my bed again) they became inseparable.

I need to share a story with you though. We have an area where they go to the bathroom and it's big enough for them to run and play. One evening as the sun was setting, they'd been playing and it sounded like they were fighting. I never heard the kind of yelps coming from Enzo before. I ran to break it up and realized that Arthur's lower jaw had gotten Enzo's collar wrapped around it and it was twisted. Each time they struggled, it would tighten acting like a tourniquet around Enzo's neck. It took all my strength just to hold them still. Just then, my son, Matthew came out. I asked him to hold Arthur's jaws still so I could unclasp Enzo's collar. It worked, but Enzo wasn't breathing. He didn't breathe for close to ten minutes. I blew into his nose and he came around. I was afraid he had a broken neck because he didn't move. He laid there for a half hour motionless with his head in my hands. When I pinched his paw, he didn't react. We were going to carry him to the car and my other son came out to help. When Enzo saw Ian he just stood up and wagged his tail. During the whole ordeal, I tried to get Arthur to go away and he refused to leave Enzo's side.He was worried too. We took Enzo to the Dove Emergency Clinic and he had petechial hemorrhaging in his eyes. He didn't suffer any other injuries or complications. He is totally healthy and fine now. The vet said puppies are able to go longer than you would think without oxygen going to their brain.

Our dogs never wear collars now. I try to tell everyone I can about what can happen with collars. We got lucky with our dogs, but it scares me to think what could have happened. We love both of them so much, and they love each other. We feel so lucky to be with such amazing dogs. Thank you so very much.

We're wondering if you can tell us about Enzo's eyes. He has beautiful eyes that seem uncommon for a golden. Could you tell us if we're right about that. I love the color of eyes he has. I can't remember ever seeing such light colored eyes on a golden before. They're amazing." - Becky
---
"Here a couple pictures of Flash and Arrow! (Pups we got from your early September litter Millie/Cooper.) Lovely dogs! I tell everyone about you. I don't know how you ever let the puppies go!

Loved Rusty long ago when we originally had a put of his - but Cooper is doing great for you!. Flash is most like Cooper - tons of energy, GREAT swimmer/diver, happy! We have a little of Rusty showing through on Arrow - VERY trainable, smiles, would have been a fabulous therapy dog!

Love them both so much! Thank you again Cindy, for everything." - Cookie Root

---
"We bought our beautiful Golden Theo from you (out of Molly and Chase back in 2006 (I believe). Wow, I was such a nervous nelly. We had lost two Goldens at Age 10 prior so I think I may have sent you over the edge with my worry and health questions.

You assured me all was great with Theo's lineage and sure enough, you are right! He is 101/2 and going strong. :) we just love him to a million pieces.

We would love to come out to the farm for a visit some time soon too and see the parents and puppies :)

Thanks for all the beauty and happiness your have provided our family over the last 10 years. Priceless!" - Teresa
---
"Sweet, handsome Huckleberry (blondie-Cody/Millie pup) and Fin (redhead-Cody/Charley pup)! They are the best, thank you, Cindy" - James Wood
---
"I just wanted to touch base with you about Sophie and send you a couple of photo's.

Sophie is just now 15 weeks, loves to play in the water, bark at cows and chase anything! She is very affectionate and loves everyone. She is crate trained to sleep at night, knows the commands come, sit, down, and off...working on stay.

Lucy will be 11 years old in January, and she is very friendly and tolerant of all of Sophie's puppy antics (including chewing on her ear any chance she gets).

Thank you again so much for both of our 'girls'." - Kelly Coffin

---
"We were out having some fun with our wonderful Augie doggie this afternoon, and I thought you might like to see a picture or two of him. He is a little over three years old now (out of Daisy and Jake) and he just keeps getting better!

Yesterday, my son and I went to the dog show in Portland and I kept thinking how much prettier Augs was to me than any of the Goldens I saw there, then I snapped this shot of his perfectly balanced completely natural stance and it just cemented it for me. He is a beautiful dog, he moves with fluid grace and ease, his coat is easy to maintain and he is so waggy and fun...he is a true joy. He is the most fun and healthiest dog I have had in 16 years, we all adore him!" - Nannette Evans

---
"Took Cheddar to the vet yesterday to finish up on all shots. He's doing GReat. At 40.7 lbs and growing. In two weeks he said we can go everywhere. Looking forward to going to the great doors with him. He love's everything, small children, water, toys, sticks and playing by himself he's a goofy boy. We are enjoying your gift to us from Cody & Charley. Attached is a picture of him after a meal. Thanks for a Great companion." - James Wood
---
"Just realized I hadn't sent you any photos since we picked Huckleberry up at the end of February, so thought I'd show you our two Oak Grove Golden boys, currently almost 9 months(Fin) & 16 weeks(Huckleberry). They are such amazing, beautiful, sweet pups. Thank you so much!! They've completed our family!" - Dosha Baureis

---
"We brought our beautiful Aria home exactly one year ago today. She is from the litter of Lady Sage and Sir Cody born in June of 2014. She's a happy, healthy little rascal! Smart as a whip, and stubborn as a mule at times, but she knows how to behave when it counts. :) She'll be starting scent training for her diabetes alert work very soon. She's been such a source of joy for us throughout the last year, and we're looking forward to many more years of love with her." - Chris and Emily Reed

---
"My family and I got our Fin back in September, from the Charley/Cody litter. He is just wonderful, a very quick learner, and fit right into our family. I included my newest photos so you could see how he's growing. We are considering getting another pup from you once Fin's closer to around 6 months. Thank you so much for our sweet boy, he's brightened all our lives after the tragic loss of our 1st golden. He's a wonderful, beautiful blessing." - Dosha Baureis
---
"Skylar met Santa today, does he look bigger, 33lbs and very tall. Merry Christmas" - Fred Woodhouse
---
"We picked up our Charlie on February 21 and it has been an adventure ever since!!! She is such a little brat. Stubborn, hard to housebreak, likes to bite to play and we love every quirk she has. She is the cutest, sweetest little golden ever. She is still getting used to traveling in the car. Isn't thrilled but she always settles down. She loves us and we love her. She is perfect for us. We just got her last shots yesterday and she weighs 26 pounds. Healthy and happy. She loves everyone (sometimes a problem!).

Everywhere we take her she attracts people, especially kids and older folks. People are just attracted to such a darling puppy. She loves to be outside and we do have a small backyard where she spends a few hours a day. But we take her to our large front yard for play time. And we go on walks. She loves her toys in the house. No problem with her at night. She has a large wire crate and she has never fussed when she is in there at night. She loves to fetch. Doesn't quite get why she has to give the ball back every time but she does bring in right back.

She is funny and sweet. The best puppy in the world. We love her so much. We are planning a couple of days at the coast and can hardly wait to see what she thinks of the ocean.

So glad we got her. A lot of work and some frustration but the joy she brings us is tremendous!!!!!" - Elaine
---
"Oh my gosh he is so cute... I thought with all the puppies u have he would not be social but he is johnny on the spot he loves everthing...Thank u for the wonderful addition to my family... Arrow is a wonderful boy and will see the vet next week... I will keep u posted with his progress...Thanks again for letting us have a chance with your wonderful dogs..." - Jeanne Mundt
---
"It has been a while since I have emailed you about our wonderful Oak Grove golden, Augie. He is not yet two. Here is a link to the video of his new self taught trick! He is so fun! We adore him! Have a great day!" - Michelle Stapleton
---
"Buster is the best dog we have ever had. Great appreciation to you guys." - Emmett D. Wortman
---
"Earl is doing awesome. (Parents were Katie and Cody) He is so smart. At 10 weeks he is already reminding me when he has to go outside to go potty. He and Chester are such great buddies. Thanks so much for the wonderful little man." - Jim Ellis

"[Picture #3] is an after bath picture. Just under 5 months old,he is doing super. He can sit and stay,spin ,shake, working on heeling, and down. He is very smart. Earl is great. Thanks."

---
"Hope all is well with you, and your family! I just wanted to give you an update on my baby Blaze. He is from Cassie and Jake's litter from Oct. 30th 2011. Blaze is amazing!!! Now that he's 2 1/2, he's pretty laid back. Although he's always been pretty calm. We went through all the puppy training classes, and beyond. I still work with him every day to assure that he keeps his manners. He's pretty active. We hike, and walk a lot, and go to a local park, so he can play with his buddies. He's loved by everyone who meets him, and he has never met a dog that he didn't get along with. He does, although, make sure that all his friends get along. Jumping into any fight that occurs, and makes sure that they keep the peace. He's frequently called the negotiator. I have been using him for friends that have brought home puppies, to socialize. He's been soooo good at being a teacher for the young ones, and is very tolerant of their puppy shenanigans...lol. He is the best friend I've ever had. He's very protective of me, but not to a fault, and I thank God every day that I have him in my life. We recently took in a kitten, and he and Chaka kitty have since become bff's. They absolutely love each other, and are inseparable. He's super gentle with her, and lets her clean him. I think he actually enjoys it. He's quite comical as well, as you'll see in some of the photos. Hopefully one day, we can come visit you, so you can see for yourself how extraordinary he really is. He would love to see you!! Thank you so much, again for giving me the opportunity to bring such an amazing dog into my life!!" - Rachel and Blaze
Here's a cute video of Blaze, and his kitty Chaka.
---
"Been wanting to send you a photo of our puppy, Sunny, that we picked up from your beautiful kennels on December 21, 2013. He was from the Nov. 7th litter of Rusty and Sophie. We had already decided on his registered name - Sir Sunshine of Bush's Mountain - and it was indeed wondrous when we found that there are Sunshines in his lineage on Sophie's side! Sunny is going to be a big guy. He's 5 1/2 months now, and weighs around 50 pounds. He's going to be a looker for sure! :) We're hoping some of his grandpa, Sir Maxwell, will shine through. :) He is bringing us so much joy and energy and happiness, and we love him so very much. We are extra blessed with Oak Grove Goldens, as Sunny's half brother, Leon (two weeks older than Sunny), lives right down the road from us, and his half brother, Lloyd (a year older than Sunny), lives about 15 miles from us. Maybe we can get a picture of the three of them together sometime! Hope all is well with you and yours and all your beautiful dogs. Have a wonderful Easter!" - Jeanne Mundt
---
"Samson is from the 10/27/13 Lucy Mae and Rusty litter. We love Samson so much. Great family member, so smart and loving! Growing up fast, 36# @ 17 weeks. Samson and I walk everyday before and after work. He does very well with other dogs of all sizes at the dog park. He sits, gives a paw ("pound it", so cute), lays down, and will roll all the way over on command. My 17 year old son Conner has him learning tricks in about 10 minutes. It's amazing to witness the two of them together. Samson is the focus of daily life for me now and I just thank you so much for trusting us to raise him. He has brought a special joy and excitement into our family. Just wanted to say thanks. I will send more photos soon. For those reading this on-line and considering adding a family member, the Oak Grove breeders are the best. When we visited the farm to meet Samson it was so obvious this is the best place to find your puppy. Great family operation, very reasonable cost compared to others we checked, and wonderful dogs!! I highly recommend them. (The photo is Samson getting ready for the Superbowl so he was about 3 months old)" - Rod, Debbie, Conner, and Samson (Dallas OR)
---
"Here are a couple pictures of Ruby at about 13 months. Weight 66 pounds. Ruby's birth date was Nov 27, 2012. Parents were Lady Sabrina and Cody. She's a great dog. Just wanted to let you know how she turned out." - Brian and Claudia
---

"I just wanted to send you some updated pictures of Millie! She is growing up so fast. She LOVES to play soccer with the boys, chase the goats, go for rides in the farm pick-up, and digging in mole hills. Her and I recently finished up a 6 week dog training course, here in Tillamook, and she graduated as the "Most improved" dog. She is developing a HUGE personality. She can be very stubborn and as I call it "on her own program". She is a good girl. We love her very much and she has been a wonderful addition to our family!" - Wendy Landolt
---
"i wanted to send you pics and update you about this love of my life my honey bear Cody....he swims with me , he hikes he is relentless full of energy and a lover...soooooo smart ....he is noble loving soo playful...and gets along with avery and dutchie...always knowing he's the baby in the family....i cannot begin to tell you how much i hug and kiss those beautiful eyes...he is the love of my life...i adore him ....he is a handsome little rogue ready at all times with his decoy and bally... he loves retrieving his decoy from the water a natural swimmer...i love him with all my heart and soul...he loves my dad..and my dad is so devoted to him. I am so lucky to have him . Thank you thank you so much for this beautiful pup...my handsome red rogue Cody bear. hugs to you." - Marie Ribisi, Glen Cove, NY
---

"We just got back from a road trip to the National Parks in Utah and the Grand Canyon...(good thing it was last month!) I wanted to share a few pictures of Maggie [Parents are Riley and a Cody.] with you. She IS a wonderful girl! She traveled very well...she is so affectionate. We laugh a lot because she truly likes to hug! We did end up having her work with a trainer at 6 months. She was quite a wild child. Much better now, but still very spirited! She absolutely loves other dogs and plays very well with "other's".....her favorite place is a dog park! People always say how beautiful she is.... We are really enjoying her.." - Patti Fascell
---
"I just wanted to let you know how well Millie is doing and what a spoiled little puppy she is! She is so sweet. She is very curious about the cows and LOVES to play in the pasture behind our house. She is trying to be nice to our older cats, they all sleep in the garage together at night, but she forgets that they don't want to play! She loves to chase her frisbee, pack off our youngest son's socks, gets very excited to go bye-bye and as soon as either the front or back door at the house open she's comn' on in whether she's invited or not! :) We can't thank you enough for having such a wonderful puppy for our family. She has helped us to move on in the grieving process over Bailey. Here are a few pictures of our little girl." - Wendy Landolt
---
"Today Chief took 3rd place in the Talent Competition at Tualatin's Crawfish Festival's 'Atsa My Dawg Contest'. He opened a gift-wrapped box of Vitabones. We give him one every year for Christmas, and I wasn't sure how he'd do in front of such a big crowd and other dogs, but we has GREAT! I'll send you a link when I get it onto YouTube. He was an amazing Ambassador for you today - I had so many people telling me how handsome he is and asking where we got him." - Carol Beaulieu
---
"I thought I would share a picture of Picasso at the Clark county fair. This [first] picture is Extreme Vertical (high jump), he jumped 5'6". In big air, long jump, he jumped 19'5". He is an amazing little boy." - Kim ... The second photo is Kim's goldens hunting for truffles."
---
"Last November I purchased a male golden from Cody and Gracie. I thought you might enjoy a photo of this young pup. He has been an enjoyment to the family. Best wishes," - Rick Torres
---
"Update: Ben (Cassie and Rusty born June 1) will be a year old next weekend. We love him very much! He is our best! For example (a minor one) this morning in rain, he retrieved the newspaper for us while I stood in doorway of the house. We get lots of compliments of his good nature and stature. We met by chance another person in Portland who has a golden. She bought her golden from you, too! (3yr old a Cody and Lady Lexie cross). Just by chance - do you have another Cassie X Rusty offspring? Sincerely," - Nancy and Don Cameron
---
"This is the pic of Maddie (from Sophie/Jake's litter June 2012) that I thought you might be interested in. It is at Cape Horn hike in the Gorge on the Washington side. She looks like she is smiling!" - Kristin Otto
---
"I wanted to send you this e-mail and share with you how much we have cherished the little 12 pound golden retriever that we adopted from you at the end of August 2012. She was from Jake and Katie's litter and we named her Sophia. She is now 67 lbs of love and joy and turned 1 year old on June 12th. She has been through all the training classes at PetSmart and loved every second of being with the other dogs and trainers. We make sure to get in two walks a day that include chasing a ball in a field close to the house. She also has two cousins, a golden lab and australian shepherd, who make a wonderful pack that play on my sisters farm with 5 acres and a pond, where Sophi loves to swim, most weekends. When we adopted Sophi there was a young adult female there that had a green color and my husband fell in love with her because she was always next to or leaning on him during our visit. Sophi is starting to develop the habit of being close, leaning or touching one of us when we are doing our daily activities in the house. She is such a joy to have around we can't imagine what our life was like before her.

I see that you have two litters currently. We have been giving some thought to getting Sophi a companion. I would like to rescue a dog but Sophi is just the best dog that I am also thinking that having another of your wonderful Golden's would be the perfect match. Do you have any girls available? As a breeder, do you suggest that we wait until Sophi is 2 yrs old before bringing another dog into her home or is there a better time for this transition? Do you ever adopt out any of your older dogs?

I have included a couple of pictures of Sophi!

Thank you again for the joy you have brought to our lives," - Jeanine & Davin Anderson
---
"Hi Cindy - Our puppy Samantha is almost one year one now, so we only have another year of puppyhood - right? She is a super-athletic, smart, sporty gal - would have made an excellent hunting dog, very birdy and prey oriented, but she will have to suffice with our sheep farm and agility class. She is thin and long, like Lilly and a beautiful golden color... even though I was so set on wanting red! She/ we get lots of compliments on how pretty she is. Thanks so much and hope all is well up at Golden Oaks." - Teresa Kludt
---
"Hi Cindy, Attached you'll find pictures of Samson, born to Sadee and Cody on March 12th, 2012. We brought him home after we lost our last Golden to cancer. In some pictures he looks like Sadee, others he looks like Cody. We're having so much fun with him. He is very smart but very mischievous and is also absolutely the funniest dog I have ever known! Our lab Luna did not like him for the first month. Snapped at him, growled at him, then one day after he was here for 4 weeks, she suddenly realized that he's here to stay and they've been best pals ever since!" - Shelley Ballestrazze
---
"Cindy, wanted to let you know Maddie is doing great! She is of Jake/Sophie litter from last June. I have shared your website with a coworker who will likely be contacting you soon about her own puppy. We love our Maddie (she is a beauty!) and wanted to let you know how much joy she brings us. Thank you for all you do and all of the advice when we were training her." - Kristin Otto/Leland Marks
---
"We brought [Samson, born to Sadee and Cody on March 12th, 2012] home after we lost our last Golden to cancer. In some pictures he looks like Sadee, others he looks like Cody. We're having so much fun with him. He is very smart but very mischievous and is also absolutely the funniest dog I have ever known! Our lab Luna did not like him for the first month. Snapped at him, growled at him, then one day after he was here for 4 weeks, she suddenly realized that he's here to stay and they've been best pals ever since!" - Shelley Ballestrazze

---
"We just wanted to thank you so much for Ellie. She is such a wonderful girl. She loves playing with the kids and running around the back yard. One evening I went to check on my son, who is 6, taking a shower only to find him AND Ellie in there!! He was laughing so hard and she was loving the water!! The memories we are all making with Ellie are very special. Thanks again for this amazing girl!" - Wilcox Family
---
"Hi Cindy, just wanted to give you an update on Cooper and how he is adjusting. He slept all the way home about 1 1/2 hrs, didn't get carsick. When we got him home we took him out to the backyard and put him down and he went absolutely crazy in the grass!!! he was biting it and rolling. He doesn't like the sun or heat at all. the first few days he wouldn't go anywhere the sun was. he's over that now. He LOVES the water and is very helpful while I am watering the flowers. We got him a pool and just put a few inches of water in it and he plays in that a lot. He also enjoys gardening, rototilling, pruning and pullin weeds.He is a very smart boy, already sits and knows the word 'No' (he wanted to be attached to our pant legs and shoes at all times) He does have a bit of a temper, when things aren't going his way he has this cute little bark. It's nothing serious. Usually a toy is stuck out of his reach or the cat won't play with him. She put her foot down immediately and he respects her. (so far). I did get 2 weeks off, and then my mom will take him while we are at work, she's already bought him new toys,bed and treats. He's doing great with potty training and the only accidents he's had has been our fault. His appetite has been great, and he really didn't seem to have any separation anxiety, he has adjusted wonderfully...already the boss-well not to the cats-but to us. we are so in love with him and he has made this house a home again. We miss Gabe dearly and will never forget him. I always wondered what it would be like to always have a clean house, well we did for about a month and I hated it, it seemed sterile. Now there are toys all over the house and muddy footprints on the kitchen floor, we now have our home back!!!!I was wondering at what age do we start advantage? We haven't seen any fleas,but I would like to keep it that way. And what advice can you give regarding teething? We have some toys and a bully stick, but sometimes when he's chewing he whines, I feel bad for him. Here's some pictutes of his first few days at home." - Dawn Steinmetz

---
"Keagon is the best thing that ever happened to our new family. He really is the most relaxing pup I have ever had the opportunity to call my own. Thanks again so much for all you have done." - Zach Mcganney
---
"[Blaze is] almost 9 months now, and such an amazing dog. He graduated from advanced puppy school just a couple of weeks ago, and has learned so much, and become such a well mannered doggy. We hope to get his good canine citizen certification soon. I'd still like to have him as a therapy dog.Once he gets a little older I will enroll him in to the Delta society classes, and cross my fingers that he does well, but I have no doubt that he will. He is a show stopper when we go for walks. Everyone thinks he's gorgeous, which he is. Some people say, oh what a beautiful Irish Setter he is, hehe. I don't correct them, or tell them that Goldens have setter in their bloodline, I just say, thank you so much, and move on to the next admirer. We are going to neuter him at 1 yr or so, just to make sure that he is fully developed. We want him to be as healthy as possible so we can have him around for many, many years to come. Thank you again for allowing us the opportunity to add to our family the most amazing dog ever. Our cats thank you too. He is now bff's with our youngest cat Angel." - Sincerely, Rachel G, and family
---
"I wanted to tell you how Cody is the love of my life he is my baby cinnamon bun...and now learning how to surf lol...he has swam with me with floaties along the sound at Cold Spring Harbor, NY...I adore him he is an angel pup ...my pupaloopa my honey bunch my love of my life...I never believed I could love a puppy the way I loved Casey who passed last summer...but Cody has his heart and spirit and he is all heart and soul...courageous loving loyal playful adorable goofy and soooo intelligent...I adore him we are always together ...how loving he is....he is a sweetheart never growls or is mean to my Dutchie or Avery my other two...Nova Scotia duck toller and English cocker spaniel...he is my angel ...I could not have asked for a puppy more loving and wonderful and amazing and goofy he makes me laugh so much he is everything I dreamed of and more ....thank you so much for this wonderful gift xooxoxoxoxoxo" - Silvana Marie
---
"Just thought I would let you know, Kody's made herself right at home. Cats both hate her but she LOVES them! My son's dog is pretty sure the new puppy is for her. She's eating, drinking, going potty outside, even going to the door and sniffing around when she has to go. I'm amazed!!! She's too awesome! Thank you!" - Kris
---
"Wanted to let u know that we all made it back to Chico last week safe and sound. The puppy, Samantha/Sammie traveled great in the crate for the 10 hour (with stops) trip back. She waited till the next day to find her 'voice!' She's adjusting well to our place-here she is saying 'hi' to the sheep during morning feed time." - Teresa
---
"Hi there Cindy,

Just wanted to let you know how things were going with Blaze. We brought him home on Dec 16th 2011, he was 7 wks old, and it was probably one of the most exciting days of my life. My husband and I couldn't have children so getting a dog was the next best thing . For myself, this is the first dog I've ever had as an adult so I was pretty nervous being a first time dog owner. Puppies, so I've learned, are quite a handful for the first couple of months, but once that adjustment stage passes it's the most wonderful experience ever.

Blaze is now 18 wks old, and I'm sure all people say this about their puppies but, he's the smartest puppy ever. His commands consist of sit, shake, other paw, down, stay, leave it, drop it, come, out, speak, and high 5. I'm probably forgetting some, but that gives you a good idea. He is in his 4th wk of beginner puppy school, and he loves it! I've spoken to the trainer in regards to Blaze being a therapy dog, and she says that he would make a great candidate for that because of his super calm demeanor, which he gets from his Mommy Cassie I think, and btw his Daddy is Jake. That's a big factor in why we chose her litter. Everywhere we go people compliment him on his calm, well mannered personality, which makes me very proud. Everyone also thinks that he is the most beautiful Golden that they have ever seen.

I'm hoping to have a walking and hiking partner soon. Blaze is still learning to walk nicely on a leash. He is doing quite well, but still has some issues with eating everything in sight, lol, but it won't be too much longer since he knows leave it, and drop (unless of course it looks really tasty).

I just wanted to thank you, and commend you for breeding such beautiful pups, and we are so thankful that we found you. Blaze has brought so much joy to our lives, it's hard to put into words how much he means to us. We have 5 cats, and they all get along really well. He still chases them a little, but is starting to slow it down a bit, and they seem to really like him. 2 of our cats sleep in his crate during the day when he's not in it, it's very cute.

Thank you so much again for our beautiful baby Blaze!

Sincerely," Rachel, John, Blaze, Boo, Igor, Tootsie, Bowie, and Angel Gobel

---
"I just wanted to drop you a line to say how happy we are with Molly May!!!!! She is really everything that we could have asked for! She was off her leash at home within two weeks and has never strayed. This is her home and she guards it well. The other really great thing is that she is a pleaser. You know how some dogs always want to please their masters? Molly is one of those dogs! When you get one like that it is really special. Thank you for doing such a great job with your dogs. We keep having people ask us where we got Molly. We tell them and give you a 5 star rating. Keep up the good work!" - Brian and Mary King
---
"We thought you might enjoy this picture. Kahlie is such a cutie. We are having lots of fun with her." - Kelly Burke
---
"We just wanted to let you know Sam [parents are Samantha and Cody] is doing great. Started training a couple of weeks ago for him to be a therapy dog. Thanks again!" - Amy, Jeff and Gabrielle Hawkins
---
"I brought home a little boy golden from Jake and Cassie's litter earlier this year in May! I just wanted to let you know about Dash, and how well he is doing! He is growing up to be the sweetest and smartest dog. He looks like his father and has his mother's mellow temperament! We are currently training him to be a bird dog so Matt and I can take him duck hunting and he is such a quick learner. He is by far the most obedient and smartest puppy I've ever trained or known. All of our friends and family loves him! I hope you and your family are doing great and I want you to know we have recommended you to numerous people all the way from Alaska to Tillamook, OR. I have attached some pictures of Dash from mid July- present. He is now 22 wks and is growing so fast! Thank you so much," - Courtney & Matt
---
"Here is a picture from late July of Tobias (Son of Samantha and Cody) my 13 year old took during our camping trip. She entered it into the fair photo contest and won 1st place, 'Best of Class' and 'Peoples Choice' He is a wonderful addition to the family and gets along so well with his big brother Sammy. Thanks," - Kevin
---
"Jeff and I just want to let you know how great things are going with Sam. It's almost too good to be true how well he is doing. He sleeps through the night and has yet to have an accident in the house, brings the ball right back to us to throw again. I could go on and on. He is an absolute moose! I think he will be a big guy. The worst part is that he is a very sloppy drinker. Water everywhere. :) He and Laci are doing great together. Sam is very gentle with her. Laci is getting more fragile everyday. They are good for each other. Sam seems to enjoy walking Laci. We can't thank you enough for him. He has been a joy! My plan is to make him a therapy dog. I think he would do great." - Amy Hawkins
---
"My thank you is 2+ years overdue, but I want to express how grateful we are for Lilly and Reggie's daughter from their Dec. 2008 litter. I arrived at your home on a Monday evening in January 2009 after struggling to find your address in the dark. The fuzzy, yellowy pups were lively and adorable which made a decision IMPOSSIBLE! When asked which puppy was 'the best,' Cindy smiled and said, 'They're all just wonderful.' My son insisted that his new puppy be a girl so Cindy plucked three darling balls of fuzz from their pens and allowed my son to play with the trio. The Perfect Puppy was quick to reveal herself and she remains a beloved member of our family. I allowed my four year old son the privilege of naming 'his' dog and he promptly christened her, "Julae'." (Joo-lay) As my son explained to me, "Julae' is a beautiful name for a beautiful dog." Indeed she's a beauty -- the most lovely Golden I've ever seen with a rich coat that shimmers in the sun and gorgeous curls throughout. " - Andrea and Grayson Butler
---
"We purchased our little girl from you on 3-19-11. [W]e wanted to send you a few photo's of how adorable and beautiful she is. And how much she looks like her mom....Sadee May. Her Dad is Cody.

She was named "Tessie". (thought we were going to name her Lucy) But our son loves the Boston Red Sox baseball team, and that is their team anthem song, so it is original and meaningful to him and his dog, so he wanted to name her.

She is the BEST dog and we are so incredibly in love with her. At 5.5 months old she already can: On command: Sit, Lay Down, Stay, wait to told it's OK to eat....she sits at attention. She still fetches, catches anything, newest trick....she can catch a treat off of her nose and holds it till we tell her OK... She shakes with both paws, sits at door to have feet wiped off before coming into the house.

She is such a cuddler, loves car rides, going for walks. We are taking her to the beach this week and can't wait to watch her in the water! She is such a smart girl and very easy to train. We were all potty trained in less then a week!!!

Her only faults: she chews/eats rocks, howls at neighbor dog, vaccum, lawn mower, but doesn't run away from it, loves to steal socks, dish towels, small pieces of clothing, doesn't like her nails clipped.

We wanted to THANK YOU AGAIN and let you know how much we are loving her!" - Kimberly Hunter
---
"[We] wanted to send you a quick update on Remy. Remy was the last puppy out of Sadee and Cody's January 2011 litter. So far Remy has been a great pup, He has fit right in with the family and Khloe (our other golden) loves him very much. He is very attentive and loves to take walks in the country off leash with us.Remy is a true retriever and loves to get everything and bring it to us. Remy has now completed 3 of 4 doggy training classes and once the classes are complete we will continue to work with them and Khloe and Remy will be CGC certified so that Heather can take them to work (school) with her as reading dogs. This past weekend we took both of them up to Rimrock lake for a weekend of camping and it went extremely well. Remy has begun to learn how to swim (he took to it naturally) and is going to be a great swimmer. Both dogs will be making a cross country trip with us later in July and will be heading to our cabin in Canada for a week of R&R and more swimming!

We take our dogs everywhere with us and everyone comments on how well behaved he is especially since he is just a puppy and they absolutely love his light color. Remy has been a great addition to our family. You guys have some awesome dogs and they produce some great litters. I have attached some pictures for you to share as well and hope that you enjoy them. " - Brodie Knox
---
"I just wanted to give you an update on the puppy we got from you on March 18th (Cody & Lexie's puppy, Oct. 30). We absolutely love her! She has fit in to our household so wonderfully, and she gets along great with our chihuahua and cats. You would love to see how Bella and Babbit (the chihuahua) chase each other around the house and play, it is very comical!

Bella is currently asleep on the couch next to me--she thinks if that is where we sit then she belongs there too! She is such a gentle soul and is wonderful with small children. We had two parties last week, both with over 30 people, and she did great with the crowd of strangers too. Everyone is amazed at how quiet she is.

We could not have found a more perfect addition to our family. Thank you for such a wonderful puppy." - Lisa Williams
---
"Here is an updated pic of Bella. Baby of Jake and Lexy. I have had a number of dogs over my life, but she takes my heart. She is such a great dog. Easy to train, easy to play with, respects you when you are trying to be serious and then loves to play when it's play time. She still brings in my paper in the morning. She is great with our cat, and our two poodles. I couldn't imagine our lives without her. She gets her final shots next month. I would love to stop in an say hi with her if at all possible." - Bob Paluska
---
"We bought our Golden puppy from your kennel two years ago and Jake has become the fan favorite of the neighborhood. He is the SWEETEST animal and has been so responsive to positive training. He has lots of friends at doggy daycare once a week to stay very socialized. He loves to hike, swim and play fetch with his chuck it. We love him so much and can't imagine not having him in the family. He has the sweetest temperament which is a benefit of reputable breeding so thank you so much for that. We look forward to many happy years with Jake. He's even going to Canada on vacation with us this summer....he's so excited!" - Carmaleta
---
"Hi! We hope you and your family are having a wonderful holiday season. We wanted to send you a picture so you could see what a wonderful, handsome dog Palmer has turned out to be. He was from Chase and Cassie's March, 2010 litter. We couldn't be more pleased with him. He is so incredibly smart and loving and is such a family oriented dog. We recently re-read Chase's Bio and we laughed so hard because that is an exact description of Palmer's behaviors! We are so happy with Palmer that the reason we were looking at the website again was to see if getting another golden from Chase would be an option. Thank you so much for your time and Thank you for having such a wonderful business and for giving us our very cherished member of our family." - Katie and Carl Smith
---
"Frazier is a delight and a super sweet guy. He's my number one hiking pal and mountain biking guy. He goes up to 21 miles (so far since he appears to have no limit). Sees his brother Hogarth nearly every day. He's got a sweetheart temperament and is much loved by all who meet him. He's not always the brightest bulb about some things (which is good since clever is not always a good thing). Anyway thought I'd send this photo of a climb on mt hood this summer. I love him. Thanks so much to Abby and Chase for their wonderful son (and to you for arranging the marriage)." - Connie White the vet
---
"Love this puppy!!! She has been so much fun. She is by far the smartest dog I've ever owned. She is only 10 weeks now (tomorrow) and has really fit into our family. In the mornings, I let her out to go out and do her thing. I've always wanted a dog to bring in my newspaper when it's raining. After 2 days of showing it to her on our driveway, she retrieves it and brings me my paper. I substitute out the Sunday paper for her (too big for now).

The first week I taught her to sit and not to jump up on the kids. She pretty much now can sit on command. Coming to us on command is still getting trained. She loves to explore everything outside. I walk her around outside on the sidewalks in our neighborhood, but on rainy days she gets awfully wet. Tonight, I tried introducing her to our treadmill. She walked on it after working with her for just a few minutes. Now I have a good way to exercise when the weather is fowl.

She is an awesome retriever. She brings balls and her multitude of toys to us for a quick toss across the house.

I can't tell you how happy we have been with her and her awesome personality. We really love our dog. We'll keep you informed of more adventures. Our veterinarian really likes her as well. She gets another shot tomorrow. Checked for worms and all was clear. Our vet thought she was just perfect and in great shape.

Thanks again for your superb breeding, you should be proud. I still can't believe she is only 10 weeks old and all that she can do. I can't wait for many more weeks/ months/ years with her." - Bob Paluska
---
"I can't rave enough over Shawnigan [parents are Cody and Lilly] and what a perfect puppy he's been in his first six days with us! He rarely cries, has only had one or two small accidents in the house (usually because I didn't get him out quite quickly enough) and he's just about the cutest puppy we (or our friends) have ever seen! I love that he's from Max's lineage and can see a few traits from our previous Golden in him. We're looking forward to the magnificent dog he will become, but in the meantime, we're treasuring every moment of puppyhood with him! By the way, on the long, 6 hour drive home, he never uttered a peep and to this day (knock on wood) hardly ever cries. He's just a joy, through and through. We can't thank you enough! And have recommended Oak Grove Goldens to all our puppy-loving friends. Have a Merry Christmas--ours certainly already is!" - Christina & Jim
---
"We adopted LUCY (dob 3/31/09) from you a year & a half ago. We recently moved from Corvallis to Keizer and discovered that another of Reggie & Samantha's offspring - Sammi (born Nov. 2010) - lives w/a family in the area here. They have had several playdates since our backyard is fully fenced in. In photo attached, Lucy's wearing the green collar. She is without a doubt the smartest golden we've ever owned!" - Wray Lipton
---
"We got our golden from you guys last year the day after thanksgiving. We named her Cabela. [Parents are Sadee and Chase] Since having her I have had so much joy come from her. She is full of energy and love. She goes everywhere I go and loves to be around people, not so much other dogs but definitely people. She is addicted with playing fetch. Since we got her as a pup she hasn't stopped playing fetch. Especially with a ball everywhere she goes she always has something in her mouth and it typically ends up being a ball, she cant get enough of it. She freaks out when I get the chuck it toy and can hardly wait to get the ball thrown. She is a very good dog and best friend to have around. I thought you guys would like to know how much joy and happiness your golden has brought to me. I am getting her prepared for hunting birds. I am planning on a couple trips end of year and first of year with my boyfriend and friend I hope she will do well, but with her agility and fetching capabilities she will perform greatly. Also any tips on bird hunting? We will be doing all birds. Mostly duck and geese and move into pheasant next year in North Dakota. Well thank you again for my dog. I cannot be more happy with her." - Miranda Thielen
---
"We have a four year old (born Sept 11) from Chase and Ashley. he looks exactly like his brother, Jake. They both even have those few white chest hairs and, from what I can see in the pictures, the same couple of white hairs on the crown too. Our 'Scout' is the talk of the neighborhood. He puts on an actual show at the beach. People walking down the beach just stop to sit and watch him. He will not come out of the surf until he gets his ball no matter how tough the battle for it rages. He sleeps with a ball tucked under him for the hope he may need it first thing when he wakes. Scout is patient with the kids and tolerates chickens and rabbits that want to nestle with him in the yard. Every afternoon, he climbs the stairs with our two year old and they both have their nap on the big bed. He doesn't get up until she does and they come down chipper together." - Tonya Nichols
---
"[Here is] a recent picture of the puppies we got from you, Oliver and Sophie [parents are Lexie and Chase]. They are doing great! We love them tons and they are doing well with their training.

Hope you're well too. Take care." - Kathy Watson
---
"[Here is Sally, parents are Molly and Chase, at the] Multnomah Days Parade... she was a gem! This is the first time I ever put clothes on her... don't worry, not a regular event." - Kelliann Amico
---
"Our girls are doing terrific! They are sweet family companions, trained to hunt, and are experiencing dock dogs comptetiions. By the way we have run into another Oak Grove Dock Dog. Funny. I was by the pool admiring how pretty the golden was that was getting ready to jump and then asked where they got her. Yes, from you. So now we always greet each other at dock dogs. By the way, Adelle's daughter is learing to compete. Adelle sleeps with little John, they are inseperable. Thanks for such great girls!" - Your friends, the Haas Family
---
"In 6 more days Charlie will be 1 year old. I can't believe it. I got him right after Thanksgiving 2009 when he was 4 months old. His parents are Reggie and Bailey. I already had another Golden who was just 17 months old at the time but had wanted one of your dogs for about 3 years.
He is such a joy. He is so smart. After taking him to the dog park the first day on a leash I could take him off-lead and he just came when called, better than my other dog, Annie. Also, he was never in a house but seemed to know to go outside 'to do his business' so I didn't have to house break him.
On the drive home to Portland he got car sick and still doesn't like to ride in the car. He lies down and puts his head behind Annie when we have to go anywhere.
All the usual commands (sit, down, wait, stand, etc.) he learned on the first or second time (he was copying Annie) and he retrieves like a natural and automatically drops the ball. No training needed there. He loves the water and dives in the kiddie pool when it is hot. Annie hates the water, unusual for a retriever.
He is very affectionate, always by my side, even in the bathroom. He has his head on my foot when I am standing at the sink or when I am sitting at the computer. He did bite through the key board cable once but that's about it for naughty behavior. He is friendly to everyone, dogs and people alike. Unfortunately he was attacked by a neighbor dog when he was only 5 months old and needed 9 stitches in his face. It has healed nicely and he has a faint scar. It didn't affect him in any way in his attitude toward other dogs.
He is very beautiful. A couple of days ago when he was running in the park a woman said he looked like a 'calendar dog.' Often when people first meet him they say, 'Hi Beautiful.'
I am so happy to have him and want to thank you for breeding such great dogs. My daughter works in a large vet. clinic and took him to work with her one day. Everyone wanted to know where I got him so I gave them your web site." - Thanks again, Adele Regnier
---
"I'm thinking about having Chief become a Therapy dog, but he's not yet a year and a half and is still VERY rambunctious. He just loves everyone so much that he gets very excited – I'm sure age will calm him some (at least I'm hoping!). We have noticed a difference in the past 6 months and he truly is a joy – he's the perfect dog for us. Thanks again," - Carol
---
"[Cyrus] did beautifully! He just sat on Cheryl's lap, kissed her, slept, kissed her...and slept...We hit traffic jam at 5 miles before I-205 bridge (because of the work on it), it took 45 minutes to travel those 5 miles and Cyrus did just fine. Yesterday he got to visit his grand-ma in Longview for the Mother's Day. Grand-ma loved him to dead, she even invited her next door neighbor to come to visit him. On the way back we stopped by Fred Meyer, Quan had to wait with Cyrus outside and he took a short walk with him on leash. People around complimented how cute and adorable he was. There was a family on a SUV, they stopped their vehicle right in the middle of the street just to look at and admire him. Cindy, after only 2 days we truly feel he is our dog. He got everything we always wanted in a dog. Today he went to the vet in Battle Ground for his shots, everyone in the waiting room loved him too. Quan gave him a bath this morning, he enjoyed it very much. Cyrus is a sweet boy! We are serious about getting another one from you around X'mas time this year. Thank you again!" - Quan and Cheryl
---
"Toast turned 1 a few weeks ago, and I just wanted to let you know how happy we all are with his disposition, ability to be trained so quickly, and his healthy bones. He is the "puppiest of all puppies", soon to be the "doggiest of all doggies"! His mother was Sabrina and his father was Reggie. We absolutely love him, and have had no stress raising him during his first year. Thank you for breeding such lovable dogs." - Joni K
---
"We bought a girl pup from you last fall, pup #50, from Bailey's litter. We brought her home in early October and she has been such a joy. She is now about 55 lbs and all feathery. we named her Gobi - based on her desert color and also it is one of our favorite overseas trips to the Gobi Desert.

She is just great and while still a puppy has learned quickly and become a special member of the family.

We are thinking of coming down to visit sometime with her and will call ahead of time to see if that is alright. We thought you would want to know how she is. I am sure with all the dogs it is hard to keep track, but wanted to say thanks to a great job raising her in the early weeks. She really is such a joy to be around." - Brad and Amanda
---
"We adopted a Golden Retriever from you in December of last year and I recently put together a short (4 minutes) video showing her progression... (click here.) We take her everywhere with us and people are amazed at how well behaved she is. We have recommended you to many people." - Devon Pearsall
---
"I just wanted to send you a few pictures and an update on Oslo (#35 from Cassie and Chase's August 1st litter). He's 6 months old today and has been an absolute joy since the first day we brought him home! The first night he was here he slept all the way through the night in his crate without a problem - and that set a precedent for his behavior and temperament ever since. He almost immediately showed us that he's both incredibly smart and laid back. Within a few minutes of training he learned the 'sit' command - and since then has also added 'down', 'here', 'roll over', 'shake', 'up', and 'back' to his repertoire. He also rings a bell on the door to tell us he wants to go outside, but is content to snuggle all day long (he really is a huge cuddler!) He's well on his way to becoming a therapy dog, as we intended, and he seems to be a perfect fit for it :) Everyone who sees him compliments him on how handsome he is - and once they meet him they immediately comment on how sweet and friendly he is. He loves everyone and every animal - he greets everyone with a wagging tail and loves playing with other dogs, cats and children. We love him so much and are enjoying watching him grow up. I've recommended you to friends and neighbors who are interested in adding a Golden to their family. Thank you so much for taking such great care in breeding such healthy, even-tempered dogs! Thanks," - Lynette Hamilton, Evan Brown & Oslo
---
"Just wanted to send you some updated pictures and info now that Libby is almost to her 8 month birthday! She is the most wonderful dog I could have ever asked for. She is so sweet, playful, and LOVES people. She's the center of attention all the time and hams it up completely. We went on a trip with a big group of people to Bend this weekend and I was a little worried about her behavior with that many (14!) people all in one house. She did fantastic. She loved on everyone and entertained them all with her tricks (we're working on freeze! sitting back on her haunches with her arms up and then bang!bang! falling over, and she's completely mastered the first part). I have to tell you my favorite command so far is "go to bed" where she proceeds to run straight to the bedroom and waits for you to come say hi to her on it. She's hilarious. She's also gorgeous, I get comments all the time on how adorable and beautiful she is. Everywhere I go people stop me to ask about her and to pet her. Like I said, she's a people dog, she loves the attention. Thank you so much for providing me with a new best friend!" - Alicia Bennett
---
"Chief turned 1 year old on Dec. 18th & he's recently learned (without our teaching, mind you) how to open doors. Our doors have the latch handles instead of door knobs and he's tall enough now that they are just 'mouth-level'.

I work out of my home and today, one of my friends stopped by today to return a card table & chairs she'd borrowed. She was in a hurry because she had to pick up her son & take him to the doctor because they thought he'd broken his toe. So, she brought two of the chairs into the house, greeted Chief and I told her I'd help her with the remaining items. I grabbed my phone in case I received a business call while I was outside. We left Chief inside and when we returned to the front door, we discovered we'd been locked out! In his attempt to open the front door, his nose must've hit the deadbolt lock and locked the door.

All of our garage doors were closed. I climbed over the fence to check the side garage door to the backyard and discovered it was locked. I then walked around to the back door; it, too, was locked and all of our windows were closed. My husband was running errands in Lake Oswego and I was able to reach him on the cell phone and he came home to let me in. Fortunately, I only had to wait outside for 30 minutes and it only sprinkled slightly, so I didn't 'freeze' or get soaked.

This was Chief's first time being left unattended in our home and I was concerned about the possibility of his pulling paperwork off my desk and shredding it or getting into something he shouldn't, but he was very good and just waited until Phil got home to let me in. Of course, I learned a lesson today about the importance of needing a key when I leave Chief alone!

Yesterday, while walking Chief in our neighborhood, one of our neighbors told me Chief is the most beautiful dog she's ever seen!......AND…. she has 2 small dogs of her own!

Thanks for raising such beautiful, smart dogs! Best regards," - Carol Beaulieu
---
"Ray and me got a puppy from you few weeks ago, she is doing great, she grows from 9 pounds to 15 pounds now. she is perfectly healthy and she can do several tricks like sit, down and hi-five. We love her so much ... I took over 300 pictures of her, she has a lot of funny sleeping poses, if you want I can send you more. Thank you so much and Happy new year!" - Yoyo
---
"Thank you so much for bringing Murphy into our lives. Since we picked him up on Tuesday evening, he has had no transition issues whatsoever. He has been the easiest to train. He already knows how to sit, his name, his toys, and how to use the facilities. He loves up everyone he meets. His crate training has been a snap. He loves going to work with me & just follows me so naturally. He woke up once the first night & settled down within 15 minutes & has slept through the night ever since. He is also a real munch mouth- no issues with eating his kibble or drinking. He loves his car rides & is wonderful with kids.

I can not say thank you enough. We appreciate the time you provided us to "test" the puppies. It was not easy leaving with one; eventually, we will add another. There is nothing like the love and energy of a Golden. My 81 year mother simply melted into the heart of an eight year old when she met Murphy and he loved her instantly.

Best wishes for Christmas and a Happy New Year," - Rosemary & David Tanner
---

"I just thought I would send you some pictures of my little man Charlie, he is from Cassie and Chase's Aug 1st litter. He is quite a little heart-breaker wherever we go. He is a happy little guy. But I have to tell you the funniest thing, you warned me about his dad liking rocks, and I laughed...but it looks like it is a trait that got passed down!! I have a pile of rocks on the inside of my front door from when Charlie and I go out for walks! He likes to carry them in his mouth. I am just so incredibly happy that Charlie is a part of my family and he has won the hearts of my family and friends as well. Thanks for my little man.

Happy Holidays" - Andrea and Charlie
---

"What a fine dog Chief is becoming. He turned 11 months old a week ago today and weighs just over 80 lbs. I've attached a few recent pics for you to see.

I cannot tell you how many compliments he's gotten – he even has a 'Fan Club' at OHSU's National Primate Research Center, the Children's Clinic near St. Vincent's Hospital and West Coast Bank. He loves everyone and they all tell us what a handsome, magnificent, beautiful, cute, gorgeous animal he is. Of course, we agree! Just last night while shopping at Wilco Farm Store, I gave 2 people your name & website.

This Thanksgiving, we are grateful for so many things and especially for the new addition to our family.

We wish you a very Happy Thanksgiving!" - Carol Beaulieu
---

"Lobo is the best dog ever!! He is from Reggie and Lexie's June 4th litter and we think he is the most handesome boy ever. He is doing great with training, he loves to learn and he picks things up fast. Just wanted to say thanks again and send some pics." - Tom & Breonna
---
"CJ is doing really well, he is so sweet and gentle with the boys and so easy going! He even went with the family on a mini-train ride for an hour and a half and impressed everyone on how well the 'puppy' handled it all! I sent you a picture so you can see. He is just a beautiful pup! People comment on how handsome he is all the time and his color is just perfect as well. Thank you for such a wonderful family member!" - Nina Rauch
---

"Things are going so great with Libby, I just had to send you an email thanking you a million times already. She slept great in her kennel last night, didn't whine at all and had zero accidents! I'm in a great deal of shock and awe over that. She's already responding to her name and the come command, she just happily follows me around and it's incredible. She's made fast friends with her stuffed squeak toy eddie the elephant, she drags him around practically everywhere she goes. I took her to the vet today to get her all checked and the vet just went crazy over her, she was complimented multiple times on her good looks (she gets them from me) and her sweet temperament (she fell fast asleep on the table and let them do whatever they wanted to her). I'm already sending pictures for you, thank you so much for the sweet new addition to my life!" - Alicia
---

"We want to let you know how much we love our little Truman... Cassie and Chase's December 2008 litter. He is a great companion who loves to cuddle. True to his name he is an extremely loyal and affectionate puppy. He is now 7 months old and approximately 70lbs. We are so happy that we have added him to our family. We have already shared you with others who are looking to adopt a beautiful, healthy puppy and we will continue to recommend you in the future. Thank you so much for Truman!" - Greg and Sandy Caputo
---

"Please feel free to post these pictures of Jax on your wall of fame... Jax is a great looking and very smart dog, we could not be happier with our new family addition. We were especially lucky to meet Jax's parents Reggie & Sammy and we could tell right away that we would have a wonderful dog to add to our family. If we could have another puppy, I wouldn't go anywhere but Oak Grove Goldens" - Cheers, Jim
---
"Hi Cindy!!!! Ricky Rock Star is AWESOME!!! [parents are Reggie and Sammy] He is Happy Healthy Brave, a clown, and fits right into our family. The Boston Terrior, Eddy LOVES him and Nadje the older German Shepherd is gentle with him.... He is also Very smart and sits already and is getting good at potty training-Only problem-He is a STAR!! Every kid in a 5 mile radius is in love with him!!! Thank you! Thank! you-What a fun experience!! ps I am referring some folks to you!! Thanks for all wish I could send pics but need tech help!! Love always and will always keep in touch." - Gayle
---
"Our little puppy from Lady Sabrina's litter is doing very well. We couldn't be happier with our newest family member. CJ settled in right from the get go! He loves our big back yard and all the toys our boys fail to put away! His favorite are all the balls lying around, especially the great big one that is larger than him! He loves to jump on it and chase it down as we kick it across the yard. He is never short on exercise! With our three boys he is always on the go! He picked up on fetch rather quickly! It's his favorite game by far! He and our two year old son play all the time, but I am always close to keep CJ from jumping on my son and doing the playful puppy bites and likewise I do what I can to keep my son from pulling little ears! They are both toddlers! CJ is such a love! He will curl up in our laps and go right to sleep! We love that! He has house trained far faster than we thought he would. Much to our delight!!! We wanted you to know that one of your puppies is doing very well; he is all up to date on his shots and has even gone through another worming ... just a precaution after he chased down and killed a field mouse at my parent's home!!! YES! Chased it down! Our little hunter! We picked up some meds for worms from our vet and kept the mouse frozen while we watched CJ this last week. He is healthy and doing just fine. Like his Grandfather he loves to bring us gifts. I have had toy cars and rocks dropped into my hand on a few occasions! He is quite proud of his treasures! A stick, rock or lump of roots he dug up in one of his many holes! He will trot across the yard with his head held high with his treasure! We sure do love him! CJ is a wonderful addition and we are so thrilled we decided to see a puppy from Sabrina's litter! Our little number 28! CeeJay's Noble Tribute is his full name! It has meaning for us! Thank you for helping us find our puppy and for being so being so wonderful! We promise you CJ is well loved and cared for here! I will keep you posted as he grows if you wish! Thank you again!" - Sincerely, The Rauch Family
---
"Here are some pictures of Charlie (Lady Sabrina and Reggie's pup). Charlie truly is a Golden. Anything and everything is in his mouth, being carried around. He is almost always going potty outside and has now picked up going to the door when he needs to go. He is such a smart guy and I love his spirit and energy. As much of a terror as he might be, he is also that much of a lover. He loves to snuggle in bed and on the couch and just loves to be around people. I could not ask for a better puppy. I can not get over how fast he is growing. His appetite is great and it seems as though he is growing taller and getting heavier every day! I can't wait to see what the future brings for him in my family." - Mallory
---
"We thought we would drop you a quick note to let you know that Pup #2 (tentatively named "Jasmine") is doing well. She has had no problems with the transition. Her appetite is good, she is sleeping well and is mostly pottying outside. We took her to our vet on Friday and he said she is in great health. She weighed 9.7 pounds. She slept on the examining table!

We took her up to our cabin this weekend (she rides just fine in our car or our truck). She loves being out in the woods! Every pinecone and stick needed to be investigated. I'm attaching two pictures we took this weekend.

Thanks for the wonderful pup!" - Connie and Jerry
---
"We adopted Bailey as we have named her in mid November 2008. She was one of the pups from Reggie and Lexi's September litter. We just wanted to write and let you know what a blessing she has been. She is wonderful with our children and has such a sweet and loving manner. She is so smart and is fully trained already. She was potty trained within four weeks and is doing wonderful with her basic commands and leash training now. I had prepared myself for a full year of training and puppy stuff like chewing and toppling the kids over, but in just 3 short months Bailey has blended right in to our family and is so eager to please. She chews only when we are away from home, but we are working on giving her good chew toys to use for that purpose. We are also considering getting her a companion and are wondering if you have pups left from any of your December litters. Thank you so much for our beautiful Bailey, she's laying on the bed watching me type now, waiting patiently to play. I have attached some of our favorite photos of her. Thank you again." - The Beltramo's
---
"I wanted to send you some pictures of Sage, Hannah and Chase's boy. He has been wonderful! He is so smart and has been through obedience class. We will be starting off leash training next week so we can go anywhere safely with him. I think he looks just like Hannah with his beautiful eyes, dark color, and curly fur (which doesn't shed yet....yay)!! He loves being outside in the snow or water. He loves to watch and chase the ducks near our house and loves to go fishing with my husband. He has been such a great addition to our family. We will always use Oak Grove Goldens for our future puppies!" - Laura and Aaron Akins
---
"Here are the pictures of Tucker dressed up. He is not to happy wearing pink and purple but does it to please Jessica (our 5 year old). Tucker is well behaved and loves his tennis ball. He try's to put 3 in his mouth at once but so far he has only mastered 2 balls LOL. Thank you so much for the wonderful addition to our family he has brought so many smiles and wonderful memories to our family. We are so excited to add another of Ashley and Chases babies to our home! Keep up the great work that you do." - Dawnita Atkins
---
"It's been 7 months since we picked up our little guy and I thought I might share a few pictures with you!

Brody, has grown up to be quite the looker :-)  He's one of Sammy's puppies from Her and Reggie's litter born January 15th.  He has been deemed the cutest puppy ever by the drive-thru barista at Starbucks.

He has become such a handsome young man, and the temperament of a loving little boy.  He's daddy's pride and joy, becoming a great fishing partner, and attached at the hip to me.  He has successfully completed "puppy school" (a.k.a. Dog obedience) as one of there youngest members @ 5mths.

Did I mention we take him everywhere, he is quite the adventurist..... He has gone camping, fishing, many of this summers afternoons swimming in the Molalla river, and most recently to the pumpkin patch to pick out pumpkins.  He's the best co-pilot any one could have.  He's even had his picture professionally taken (we took him to The Picture People in April)  I have a copy of the cutest picture I will put in the mail for you. 

We want to thank you so much for letting us have one of your precious puppies!  He is truly the love of our lives....

Stay tuned for more pictures, and perhaps another inquiry for a little girl.......

Thanks again" - Keri Kudrna
---
"Just had to share this picture I had taken of Maggie (14 wks. old) this past Saturday. It was a fund raiser. I had a hard time finding something that would not look too silly on her, most everything was for Halloween."
---
"[Sam] is the sweetest, most mellow puppy I have ever met! He is already fully crate trained; he sleeps in his crate next to my side of the bed. He whined for about 5 minutes the first night, I just put my hand down there & he went right to sleep. He even goes in there when the door is open and lays down on his own. Amazingly he has not had a single accident in the house. Of course, he is not housetrained completely yet but we are shocked by how well he is doing so far! He does not jump, lick or puppy bite. He sits for petting, comes when we call his name & is learning quickly how to walk on the leash. We have him registered to start puppy class next week; we can't wait to see how well he does. Our family is so in love with this little pup! Thank you for all of the work you put into giving him such a great start in life. I will be sure to send you pictures as he grows." - Tina Fox
---
"I just wanted to take a minute to let you know what a pleasure the process of getting our 2 new golden's was. Beau and Annie are just amazing. There was a big empty hole in our lives after Buddy passed but with the addition of these 2 clowns we are getting back to normal. Annie, the little red headed girl is definitely the "boss" and has a type A personality. Beau is laid back and the calmer of the two. Took them to our vet Dr. Ferris on Monday for their puppy check up and he was amazed that they were both in perfect health. He said he rarely see new puppies without any problems what so ever, not even a flea. He said to let you know that you did an outstanding job with their health. He and Dr. Tbold also asked for your web site. Anyway, thanks again and if anyone worthy of one of your pups asks, I will highly recommend you. You and your golden's ROCK!!!!" - Ken and Pam (Beau & Annie) Wilcox
---
"We just wanted to let you know what a wonderful dog Mac has grown into. His parents Hannah and Chase would be very proud of him. At 9 months he's 70 lbs of total sweetness! He always comes home from his playgroup with a report card of 'straight As' and has been labeled the 'teacher's pet'. He has a sweet, laid-back personality and is wonderful with our boys and cats.

You may recall, we came to you after we suddenly lost our beloved Senior Rescue dog, Pip. Our family was devastated and wasn't sure if another dog could fill our hearts. Mac has become such a wonderful part of our family and we're proud to have such a beautiful, well behaved and friendly pet.

Thanks again for all of the joy he has brought to us!" - Pattie, Steve, Aidan and Ethan Wagner
---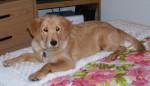 "Mandy just lost her last baby tooth today and is growing like a weed. She is about 18 inches at the shoulders and weighs about 40 lbs now, with a beautiful waist line. She is scheduled for her de-flowering on Feb. 1.

Nothing is safe around her, she has to check everything out and be right in the middle of what ever we are doing. She has a mandarin orange box that we have attached a string to that she just loves to grab hold of and race around the room with that box flying along behind her. We think it is her favorite toy. She loves to go for rides in the van and take walks.

We are so pleased with her coloring and the straight coat. We are so proud of her. I carry a little photo album of her pictures that I show off every chance I get. Thank you for the wonderful puppies that you breed. Hope you don't mind that when I am asked where we got her I tell them about your kennel." - Dodie
---
"I just wanted to drop you a note and let you know how much we appreciate our new puppy. This is Lilly's puppy #36 and we have named her Willow. She is growing like a weed and is very spoiled already. Our old Golden Lab adopted her and they play non-stop all day long. The girls can't get enough of her and we have finally found someone with more energy than my 7 year old girl, Shelby. Anyway, she has found a happy home and we are all very pleased. We will be sure to pass your name around as people asked where we got our new puppy." - Jeff, Nevada
---
"Josie is doing great. She's getting along really well with my other golden, and they have a lot of fun playing together. I have to wonder, though, if you bred these puppies to have super bladders -- she has never had an accident in the house, and started going to the door to be let out the second day. She sleeps on the bed and just sleeps there all night. What a great little girl.

Hope all went well with the rest of your puppies, and I'll try to occasionally let you know how Josie is doing (she's got 'come' and 'sit' down real well and we're starting on the leash and kennel now)." - Mike
---
"I just wanted to let you know how much we are enjoying Chloe. She is such a great addition to our family, and she is wonderful with our 2-year old. They are best friends already! I thought I would send a quick picture to let you see what a pretty and patient little girl she is. They play this game every night...

Thank you for giving us the privilege of having her in our family." - Jason, Erin and Austin Lowery
---
"In all the dogs I've had over the years (and that's alot, because I used to show them!) she is one of three that I would never part with, she's my buddy, awesome company.. play when I feel like it and is a couch potatoe with me too! She is always welcoming of other dogs (she was socialized alot as a puppy) to play with and absolutely LOVES children. She turns herself inside out with joy when my nieces and grandsons are over. She allows the girls to do "makeovers" on her with glasses, hats, clothes she eats up the attention! Last summer our grandson flipped his kaiak and he was in no danger he had his lifejacket but, that didn't satisfy her she swam out to him and insisted he hold onto her and she swam him back into the shore! So, we had to go and retrieve the kaiak but we didin't dare tell her not to do that because what if he truly had been in danger! When the neighbor kids are out they always want Roxy to come over and dive for rocks! This year she is discovering her "voice" and lets strangers know she is watching them, which I love! My neighbors aren't dog people and she knows it and doesn't care for them either, I'm working a fine line of her accepting their presence in their own yard and yet having her alert us to strangers but, she's smart enough to figure it out. She goes almost everywhere with me and is such a good girl in the car I can even leave freshly purchased fast food in with her, while I run into another store and she won't touch it! My husband actually is kinda glad her coat isn't as thick as most goldens because then there isn't as much shedding to clean up. Anyway, I thank you for such a wonderful girl!" - Debbi
---
"Wow! 11 weeks old and [Nugget] has gained 4 lbs since he came home... not even two weeks yet.

The little Nugget guy is really delightful. He has (so far) been the perfect gentlemen when it comes to Auntie Shiley. No chewing on the ears or tail and he only jumps when she's getting attention from me - we're working on that. He's crate training while I'm at work and has had one accident on the carpet (thankfully, it was nice and solid) when I wasn't paying attention late in the evening. He's quick to understand 'no' and 'down' and 'stay" and 'potty'... and he comes to his name. Not bad for 10 days, I think. He's anxious to please and sees me as the alpha female. Sure hope we keep him on that track. I'm actually surprised at how quickly he moves from his 'too happy your home' phase to 'pleased to be just hanging out'. He settles pretty easily and is a mellow little guy. I'm afraid the honeymoon is going to end - surely it must!

Shiley is remaining Shiley... patient and tolerant and passive and willing - just as good natured as ever. I sure hope she passes that along! Oh, my gosh... will I miss her when she goes - I think of that too often I think. Guess I'm a little scared.

Nugget and 'Toffee' our Calico are getting acquainted slow and steady. He's interested in her and will occasionally bound her way, but she's learned to not be afraid, so she doesn't run. I think it won't be long before they will be playmates - and they both have the energy for it.

I sure am enjoying this precious little gift... Best to you and yours..." - Diana
---
"[Sienna] is so precious and learning to fetch and play very quick. She loves this rope toy with a ball of local wool felt at the end. She slept under our bed the first night, and in her crate the second night with the door open. She is a quiet puppy and barely whined at all the first night. The second night I didn't hear her at all." - Patty
---
"Two years ago we purchased a red male from you. We named him Max after his father. He has grown into a very large and beautiful boy. He is my constant companion. He gets along great with my Jack Russel named Rosie. His favorite thing to do with Rosie is take her for walks with him carrying her lead in his mouth. What a sight to see. Thanks for breeding such great dogs. I highly recommend people who ask where I got him, to you. Thank you so much." - Sheryl Ehrlich
---
"Dear Cindy, Our Gracie is almost 4 months and a wonderful part of our family. She now weighs 32 puppy pounds. She gets puppy energy surges and loves the tall grass and big mud puddles. She knows how to sit, high-five, speak, lay down, and roll over. She also retrieves and loves to play get the ball. She spends time in my classroom and my students are helping train her to be a therapy dog. She is like candy to them, they can't keep their hands off her. She is turning out to be quite the amazing companion. Thank you. I'll send pictures soon." - Sherry Lindquist & Gracie
---
"Hi Cindy, I have been meaning to write and let you know how much we are enjoying our new puppy. Life is busy and fun so a whole month has gone by so fast. "Koda" [Lady Madaline and Sir Maxwell's puppy] is a wonderful addition to our family. He is growing so fast and is so smart. He is already potty trained and has learned most of the basic commands very well. Our 2 year old lab mix (Lucky) was initially a little jealous but they have grown to be pretty good friends. Koda wants to do everything Lucky does (right or wrong) and it is so cute to watch them together. After buying numerous chew toys in preparation for Koda's arrival, his favorite toy still seems to be Lucky's bushy tail! Thankfully Lucky is pretty easy going and tolerant of all this.

I hope all is going well for you and the rest of the gang. I will try to email a picture some time if I can figure out that part of my computer. Thank you again for providing such a wonderful new friend to our family. He has truly been a blessing." - Sincerely, Gail Stewart
---
"Cindy, just wanted to tell you how great your web-site is (about time) and how much I have loved my Abbey Rose that I bought from you 3 years ago. She is out of Max and Maddie, and is the "daughter" I never had. She's loving, smart, and beautiful. She had a litter last spring that were gorgeous and were sold to teacher friends - all of whom are thrilled with their dogs. I kept on and she(Rita) and her mom are truly best buddies. They love to wrestle and, especially, go the beach with me every day and jump the waves. Rita is very agile and her favorite game is Keep Away with a thrown stick, although eventually Abbey gets ahold of it and Rita submits it. I would love to send your pics, but not sure how yet. Both are red, and Abbey looks so much like Max. Rita is my constant shadow and loves to cuddle. In fact, she usually is happiest lying no more than and inch from me, although with her muzzle or toe touching my foot is her preference. Thank you for raising such loving and lovely dogs. Best wishes from us all!" - Valerie Baker
---
"I just wanted to follow up with you on Lexie (Hannah's last litter). She is doing amazing! As you may remember she took a while to potty train, but she is a champ now. She is an extremely intelligent puppy, has an amazing red coat and has such a great personality. We just absolutely love her - she grew into her AKC "Princess Lexus Hannah Bodenlos" well, she is definately the princess of the house. She loves daycare, swimming, and of course her 3 kitties. She has a serious golden preference, and really lo! ! ves to play with them. In fact we were lucky enough to have a 2 year old golden move in next door! I would love to bring her out to meet her family if you are open to that. Also, my husband thought it would be a good idea to send you some pictures of her for your website to show just how beautiful your puppies turn out!!! Most of all I just want to thank you for making my life complete. I don't know how I ever lived without a golden. Thanks!!!" - Jenny Bodenlos
---
"To those interested in great dogs! Golden Retrievers have been in our family for many years. We were attracted to Cindra Noreen by her warm personality and cleanliness of her breeding facilities. After enjoying our first puppy for 18 months we acquired a second and have found both to have very nice conformation and demeanor." - Kay Metcalfe
---
"My husband and I have had one (or more) golden retrievers as pets since 1989. We got our 'Katie' from the Noreens at 'Oakgrove Goldens' four years ago. She is a large female with a very outstanding, shiney red coat. Healthwise, she has been absolutely problem-free so far. Her hips have been rated 'Good.' She has no skin problems ('hot spots,' allergies, itchiness) which many goldens are prone to. She is very athletic and loves to swim and 'play ball.'

When our older golden died a few months ago, we decided to get a companion dog for Katey. There were many ads in the Columbian, most of which were very similar in nature. We were confused about where to begin in our search for another golden pup until we discovered that one of the ads was from the Noreens. Without hesitation we phoned them and set up an appointment to pick our new pup. As before, the Noreens were extremely patient while we painstakingly made our decision. There kennels are very clean and well kept, which gives us a great head start for house training our new pup. If you are thinking about purchasing a golden puppy, I would whole heartedly recommend one from Terry and Cindy Noreen." - Bev Miller
---
"I am so happy I found you as a source for puppies! It has been a pleasure from the beginning. Thank you for the opportunity to visit with your dogs even before the puppies were born and the chance meet with the puppies several times before we brought them home. It gave them time to get to know us and they were perfect all the way home to Portland. Thanks again!" - Cathy Brauer
---
"I bought my male golden retriever puppy at the beginning of January. He is a great looking puppy. This golden retriever brings a lot of joy to our family." - Suzanne Rea
---
"No one could buy a more beautiful puppy in the best breeding conditions I have ever seen while working with SPCA! These indeed are dogs born and cared for with much love." - Joy Berg
---
"Richard and I wanted to send you a quick update on our baby boy we bought from you last summer. First we would like to thank you for the quality of dogs you breed. Before buying Tucker we did lots of research on the breed as well as visited many litters. Well, there was just no comparison. You guys breed beautiful dogs with excellent temperaments.

We are having so much fun with Tucker. He is ten months old now and weighs 90 pounds! One of his favorite things to do is bring you little treasures. Throughout the day he finds things (usually the kids toys) and brings them to us. He doesn't chew his treasures however, he just likes bringing us things. He also loves going on runs with me. We are up to four miles now but the fourth mile is quite a bit slower than the first. He hasn't quite learned how to pace himself.

You hear all the time what great dogs goldens are but until you have one of your own you don't know what you are missing. They are amazing dogs. All they want to do is be around you and please you.

Well we just wanted to say thank you and tell you how grateful we are to have Tucker in our family!" - Richard and Deana Henry
---
| Home | Litters | Lineage | Testimonials | About Us | Contact Us |
---
Site by AbleDesign